Since his gold medal win at the Thirteenth Van Cliburn International Piano Competition in 2009, Haochen Zhang has captivated audiences in the United States, Europe, and Asia with a unique combination of deep musical sensitivity, fearless imagination, and spectacular virtuosity. In 2017, Haochen received the prestigious Avery Fisher Career Grant, which recognizes talented musicians with the potential for a major career in music.
Haochen has already appeared with many of the world's leading festivals and orchestras including the BBC Proms with Yu Long and the China Philharmonic; the Munich Philharmonic with the late Lorin Maazel in a sold-out tour in Munich and China; the Easter Festival in Moscow by special invitation of Maestro Valery Gergiev; the Sydney Symphony and David Robertson in a China tour; and the NDR Hamburg and Thomas Hengelbrock in a tour of Tokyo, Beijing, and Shanghai.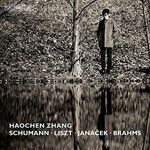 In 2009, at the age of 19, Haochen Zhang became the youngest ever Gold Medalist at the Van Cliburn International Piano Competition. Since then he has had a busy concert schedule, primarily in his native China and in the U.S.A. but also in Europe where he made his début at the BBC Proms in 2014. Recording has been less of a priority for Zhang, and it is only now that he releases his first studio album, recorded at the Reitstadel, the well-known audiophile venue in Neumarkt in Germany. For this recital, Haochen Zhang has devised a programme made up of works that he feels particularly close to. As he writes in his own liner notes, they 'not only speak to me in a very intimate way, but also connect with one another at a corresponding level of intimacy: as a whole they form a unique musical narrative.' The pieces all share a reflective and introspective quality, albeit reflective in different ways. Opening the disc Schumann's Kinderszenen were described by the composer as 'reflections of an adult for adults' and in the closing Op. 117 Intermezzi, Brahms also seems to be looking backwards – but with resignation rather than intimate tenderness. Framed by these two, the works by Liszt and Janáček contain overtly dramatic episodes, but contemplative interludes form a recurrent feature of the Ballade, and in Presentiment, the first movement of Janáček's Sonata, the dark forebodings seem to rise up from the composer's own soul.
...One blessing this program offered was an opportunity to hear Janáček's In the Mists complete. Mr. Zhang's basic sound is large, but within this he was able to explore the more intimate aspects of these highly personal expressions...
— New York Arts