"Ms. Shaham offered a daringly forceful interpretation of the [Brahms] F minor Sonata. Where the music so much as hinted that power would be welcome, Ms. Shaham supplied it amply, with sharply articulated phrasing as a bonus.....she was at her best when Brahms turned up the heat, and as big as her sound was in the scherzo and the finale, Ms. Shaham kept it trim and fully focused."
The New York Times
A consummate musician recognized for her grace, subtlety and brilliance, Orli Shaham has established an impressive international reputation as one of today's most gifted pianists. Hailed by critics on four continents, Ms. Shaham is in demand for her prodigious skills and admired for her interpretations of both standard and modern repertoire. The New York Times called her a "brilliant pianist," The Chicago Tribune recently referred to her as "a first-rate Mozartean" in a performance with the Chicago Symphony, and London's Guardian said Ms. Shaham's playing at the Proms was "perfection."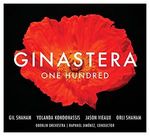 Throughout his musical career, Argentinean composer Alberto Ginastera artfully incorporated the folk music and dance forms of his native land into increasingly modernist creations. From the populist to the avant-garde, his work was created using an architectural approach that effectively set his music apart. Ginastera: One Hundred is released in celebration of the centennial anniversary of Ginastera's birth. The work serves as a musical 'thank you' from world-renowned harpist Yolanda Kondonassis, whose career has been heavily influenced by Ginastera. She has performed his Harp Concerto nearly 200 times. Alongside the Harp Concerto is Danzas Argentinas, with its themes that evoke Argentinean history and culture juxtaposed with modernist structures. This is the work which catapulted Ginastera into fame in his home country. Finally, Pampeana No. 1 shows influences from Aaron Copland, with whom Ginastera studied, and Sonata for Guitar, which is the composer's only work for Argentina's national instrument.