Artist in Residence, Carnegie Hall, 2018/19
Artist in Residence, Wiener Konzerthaus, 2018/19
Artist in Residence, Luxembourg Philharmonie, 2018/19
Critical superlatives and audience ovations have continuously followed Yuja Wang's
dazzling career. The Beijing-born pianist, celebrated for her charismatic artistry and
captivating stage presence, is set to achieve new heights during the 2018-19 season,
which features recitals, concert series, as well as season residencies, and extensive
tours with some of the world's most venerated ensembles and conductors.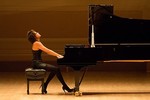 "poetic sensibilities and pyrotechnic dazzle"