"Equally intriguing were those moments when she took you so far inside the music that your ears left behind previous points of reference, partly because she immerses herself in the music with an intensity that borders on madness."
Philadelphia Inquirer
Born in Shenzhen, China, Wei Luo began piano lessons at age 5, and gave her debut recital in Hong Kong at age 6. Winner of numerous competitions in China, Wei Wei also claimed first prize in the 11th Chopin International Competition for Young Pianists in Poland and the 2nd Rachmaninov International Piano Competition for Young Pianists in Frankfurt, both in 2010. She made her orchestra debut with the Shanghai Philharmonic in 2010 with conductor Muhai Tang performing Prokofiev Concerto No. 3.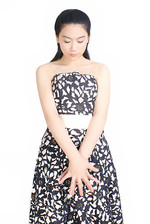 "pyrotechnical virtuosity"